How to Change Leverage on MT4
If you have ever traded forex on a live account and wondered how to change leverage on MT4 (MetaTrader 4), then this guide is for you!
It can be very frustrating as you start out with forex leverage trading due to the high risk that leverage adds to your account and the wild profit and loss swings might be hard to control.
Since MT4 is not a broker, it's purely a trading terminal that you connect to your broker account, you can't change the leverage from the MT4 terminal.
You need to change the leverage with your forex broker to change the leverage on MT4.
Some brokers won't let you change your leverage at all.
For example, forex broker IG has commented and said "The leverage we offer is fixed. Unfortunately it can't be changed" as seen in the screenshot below: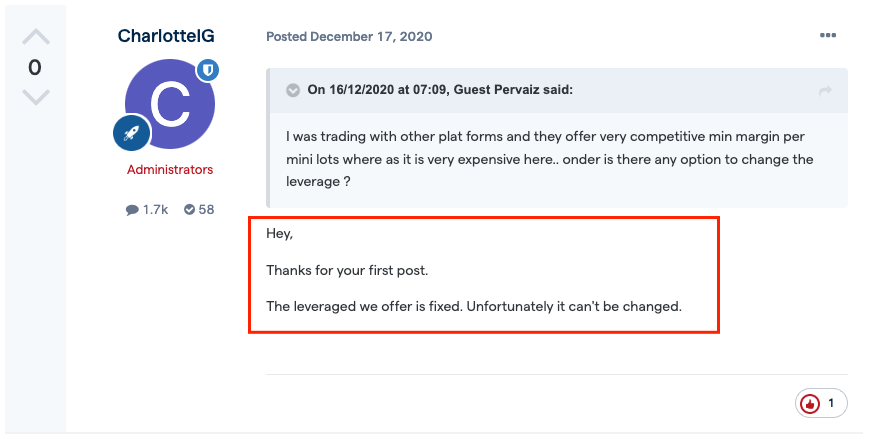 Key takeaways
You can't change leverage directly in the MT4 platform. Leverage adjustments must be made through your forex broker.
To modify leverage, log in to your broker account, go to the 'My Account' section, select your live account, and fill out a 'Margin Change Request Form' with your desired leverage or email the customer support team.
If you're using an MT4 demo account, changing leverage can be done by accessing account settings and selecting your preferred leverage ratio.
How to change leverage on MT4 – Step by step
To change the leverage on MT4, you need to change the leverage ratio with your forex broker.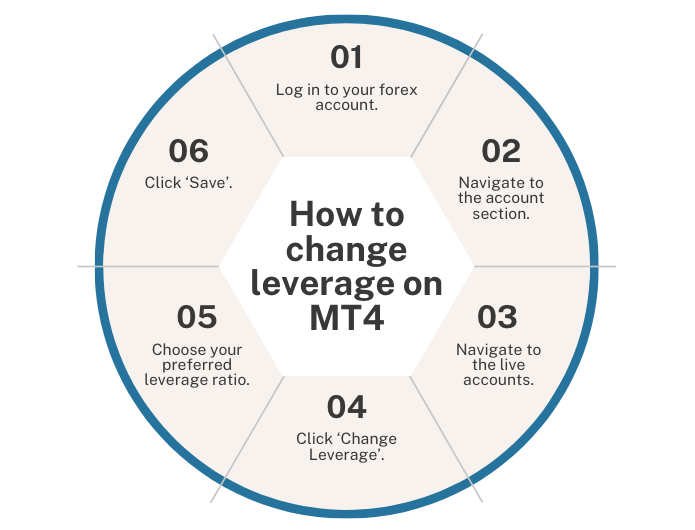 Below is a quick guide on how to change your leverage ratio on MT4 that works on all forex trading platforms:
Step 1.
First, log in to your forex broker account.
For example, if you have an account with Forex.com, login to the account.
Step 2.
Navigate to the 'My Account' section.
The 'My Account' section can be found in the main menu.
Step 3.
Inside the 'My Account' section, go to live accounts.
Choose your account and click 'Change Leverage'.
Step 4.
Fill in the 'Margin Change Request Form' and choose the leverage you want.
Here you need to fill in the correct account information that corresponds with your live account information.
The request document asks you to fill in the new margin requirement that you wish to use.
If you don't know how to calculate leverage in forex you can use our forex leverage calculator to find out what margin requirement you are going to use.
Optional way to change leverage on MT4
An optional way to change leverage on MT4 f you are a client with Forex.com is to email the customer support team and ask them to change your leverage.
Forex.com's email address is globalsupport@forex.com
Inform them of the new leverage ratio you want to use and in the case of Forex.com, provide the new margin requirement as well.
A ratio between 1:20 and 1:200 is usually the best leverage for forex if you are a beginner.
However, this depends a lot on your experience, trading strategy, and time in the market.
Both these ways will effectively change the leverage on your MT4 terminal.
How to change leverage on the MT4 demo account
If you are simply testing the MT4 trading terminal on the demo account and you wish to change the leverage, do like this:
Step 1.
Inside the demo account, click the 'Person' icon to open the account setting.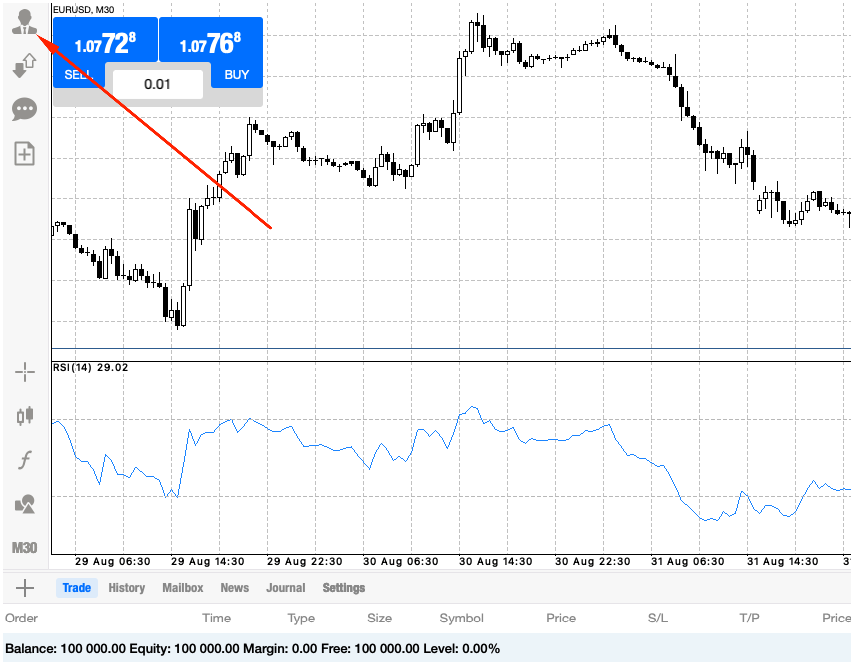 This will open the account tab to the left of the trading chart.
Step 2.
Click the 'Plus'.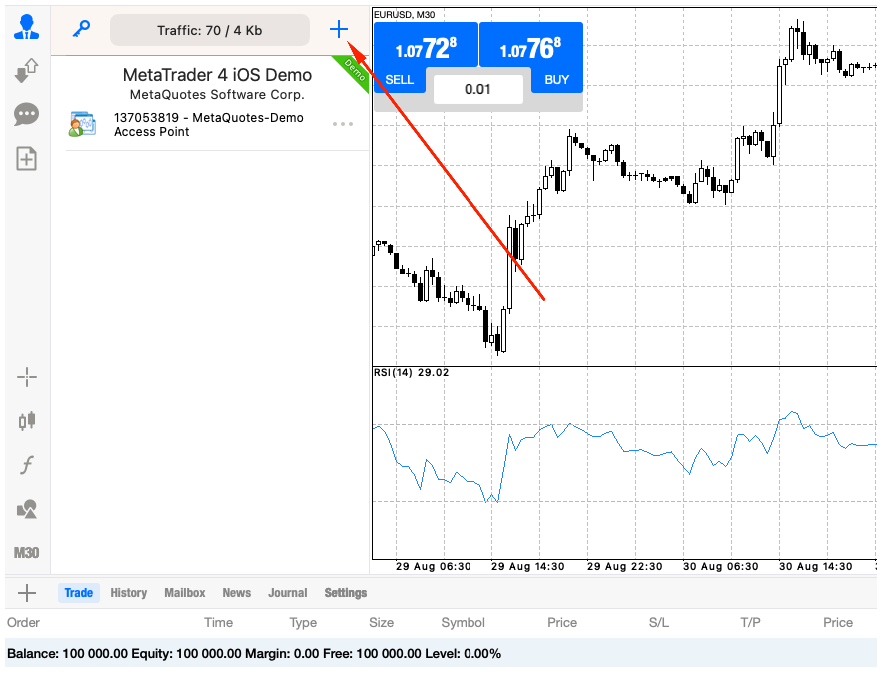 The 'Plus' sign is located in the top right corner of the account setting tab.
Step 3.
Click 'Open a demo account'.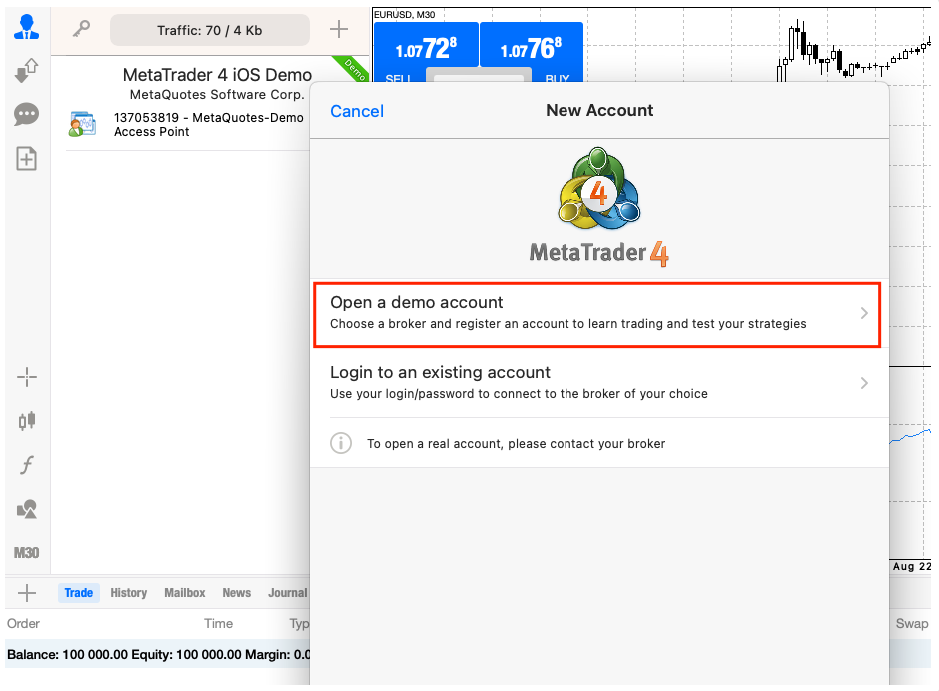 Step 4.
Click 'MetaQuotes-Demo'.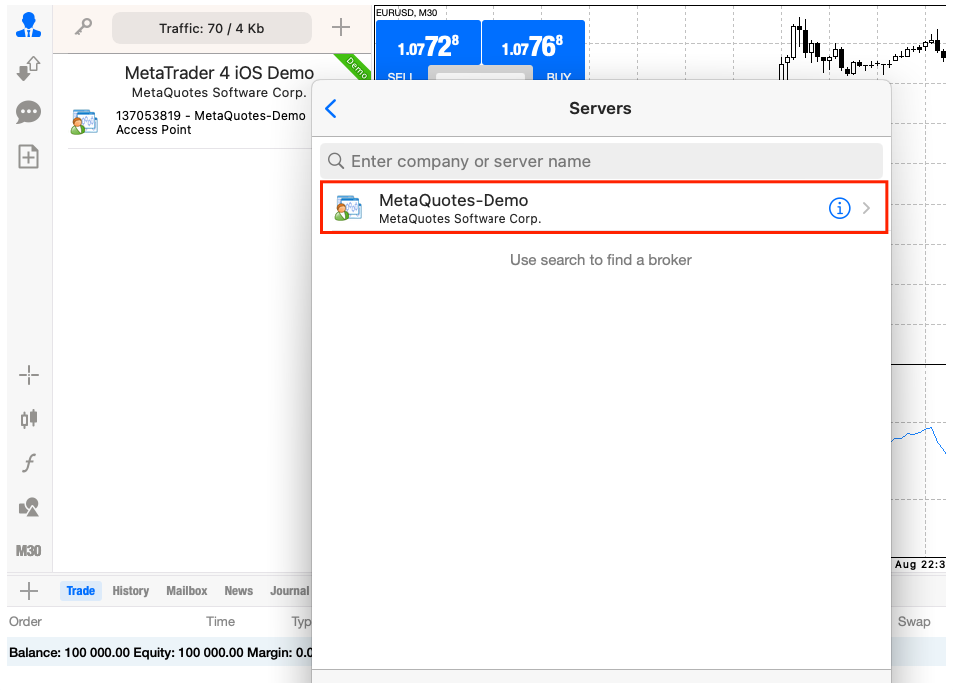 Step 5.
Click 'Leverage'.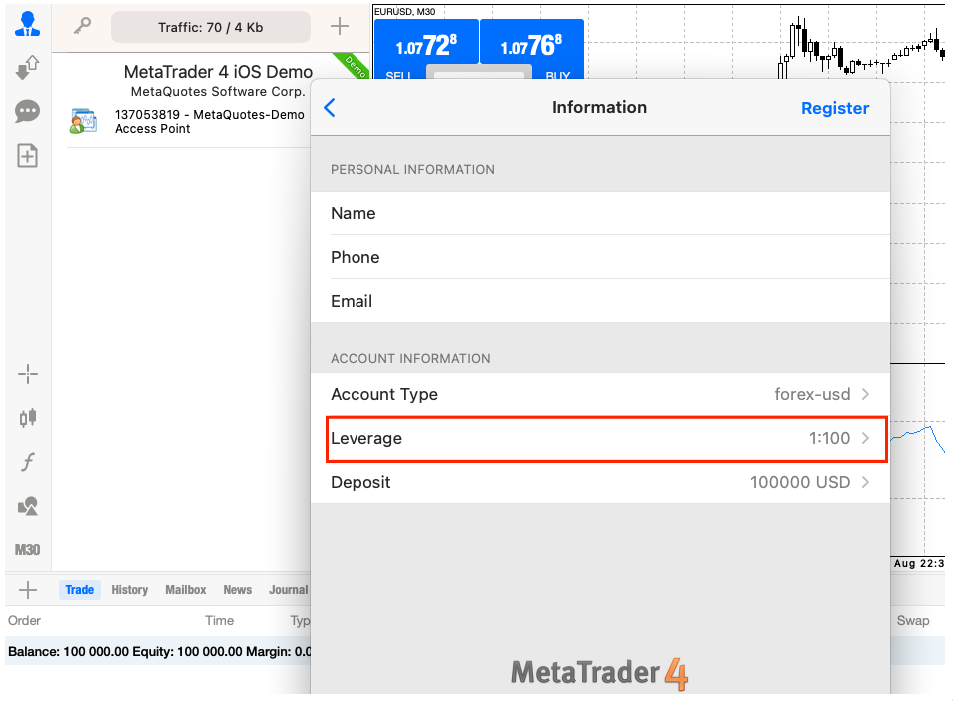 Step 6.
Select the leverage ratio you want.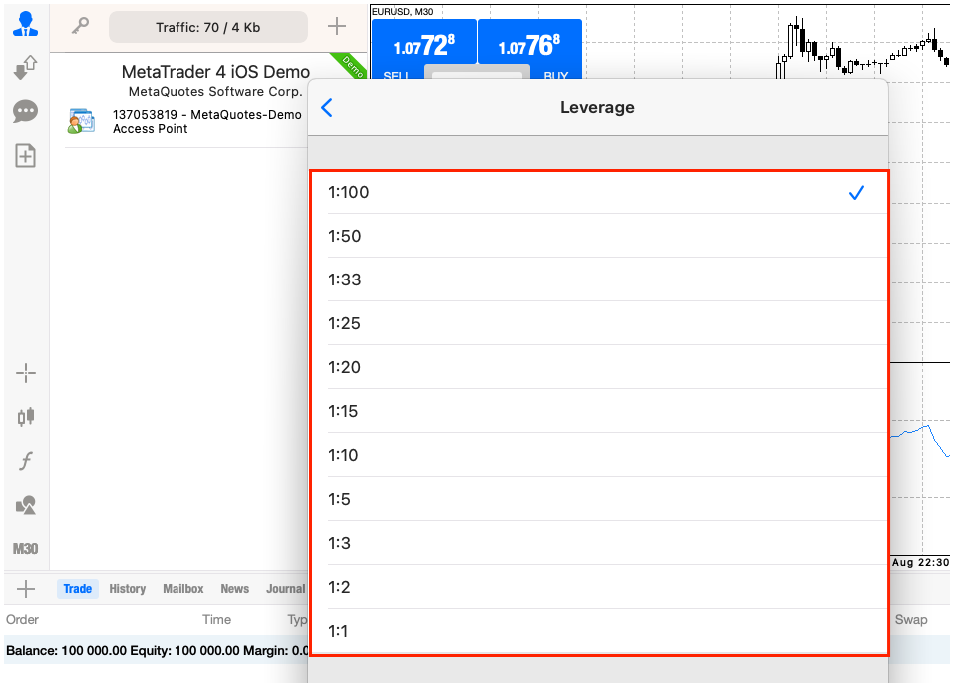 Why consider changing leverage on MT4?
Leverage is a multiplier that increases your buying power based on your margin capital and the leverage ratio you choose, or the one that your broker chooses for you.
If you deposit $500 and use 1:100 leverage, then your maximum purchasing power increases 100 times, from $500 to $50,000.
Most forex brokers with high leverage have by default the maximum leverage in forex applied to your account when you create it and therefore it might be worth changing it.
This is typically anywhere from 1:200 to 1:500.
Trading with high leverage can cause losses very quickly and it might be very difficult to control the volatility.
Using a leverage ratio of 1:500 gives you a liquidation price that is 0.20% from your entry price.
This means that if you open a trade in the forex market and the market goes against you by only 0.20%, your account will be liquidated by overleveraging.
This happens way too often for beginners simply because they don't know how the forex account is set up from the beginning.
If you can't change the leverage ratio on your broker, use our liquidation price calculator to find out at which price your position will be liquidated so you can protect yourself.
Different broker requirements on leverage with MT4
As mentioned earlier in the article, different brokers have different rules on how to change leverage on MT4 and in their own terminals.
To find out your broker requirements on leverage, follow this guide:
Log In: Go to the website of your forex broker and login to your account.
Account Section: Look for the "Account Section" or a similar option.
Leverage Change Form: If required, complete the provided leverage change request form.
Documentation: Submit any requested documents, such as ID or proof of residence.
Request Submission: Submit the form and documents as per your broker's instructions.
Confirmation Email: Keep an eye on your email for a confirmation of receipt.
Processing Time: Be patient while your broker reviews your request; they'll specify the expected processing time.
Approval Notification: You'll receive a notification when your request is approved, confirming the new leverage level.
Check Account Settings: Verify the new leverage level within your MT4 account settings.
That is a general guide on how different brokers will handle a leverage request from one of their clients, hope it helps.
Conclusion
This article has been a practical guide on how to change leverage on MT4 with a step-by-step guide.
The easiest way to change the leverage when trading forex is to contact your forex broker and ask them to change the leverage for you.
By changing the leverage when trading forex you can avoid many pitfalls such as liquidation and getting a margin call.